The Lord never ceases to amaze us! We will preach at a church or village and months later continue to receive new testimonies of how the Lord touched His people during the meeting. If Jesus touches you through someone at Awaken Ministries please let us know so we can rejoice with you! We believe in the power of a testimony and love to share them. You can let us know by filling out the contact form in the Contact Us section. If you do not mind us sharing the testimony please let us know so we can share the goodness of God with everyone.
USA
We recently began accepting invitations to preach throughout the United States and are already receiving testimonies!!!! All glory to God!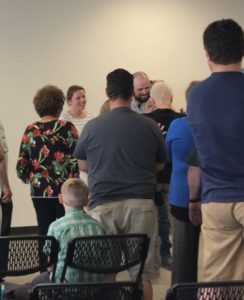 Ev. Andrew Riley preached at a church service in Texas July 2019 where He prayed for a lady named Grace. Grace told us of many different health concerns including an enlarged thyroid with nodules. She was dealing with physical symptoms at the time she received prayer. While receiving prayer she felt the power of God touch her. A week later she had blood work done at MD Anderson and everything came back normal! She recently had repeated blood work at a 3 month follow up which also came back NORMAL! 
She is praising God for her healing. 
Jesus is still healing today!
Southeast Asia
Spring of 2019 we were blessed to share the gospel in Southern Asia. It was a beautiful country and the Lord did a mighty work through Awaken Ministries.
"The harvest truly is plentiful, but the laborers are few." Matthew 9:37
This is the scripture that comes to mind when I think about what we have done in Southeast Asia. The harvest has just begun and the word promises for it to be plentiful. We are the laborers, we will reap a harvest, we will shake a nation and bear much fruit as we stay connected to the true vine. We saw over 130 children of the King begin their journey into finding their true value in Jesus. We saw the gospel fulfilled as miracles, signs and wonders followed us, as we believed. The invitation is open, the question is: how are you willing to step up and step out to change a nation? We at Awaken Ministries want to challenge you, to step into a new level of being uncomfortable for the Kingdom of God. What this could look like is actually going with us in 2020 to this nation. In the beginning of 2020 we will begin taking applications for 3 candidates to travel with Evangelist Andrew Riley a week being the hands and feet of Jesus.
Africa
Evangelist Andrew Riley preached as a guest evangelist in the Christ for All Nations 2018 village outreach and the impact of this was great. Many received salvation and were healed. It was an honor to be a small part in the advances CFAN is making in the Kingdom of God.